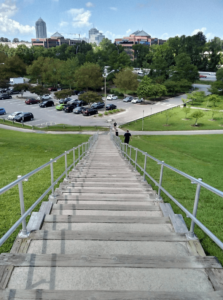 During the summer I climbed the steps at Mount Trashmore. It looked like fun.
When I first started going up it wasn't hard at all. In fact, it seemed quite easy at first, but the higher I climbed the more challenging it became. At one point I had to stop and catch my breath. I was determined so I adjusted my pace and kept going and I did it!
When I reached the top and looked out at the view it looked great! Life is a series of steps. Whatever you're trying to do don't give up or give out.You'll get there. I'll see you at the top!