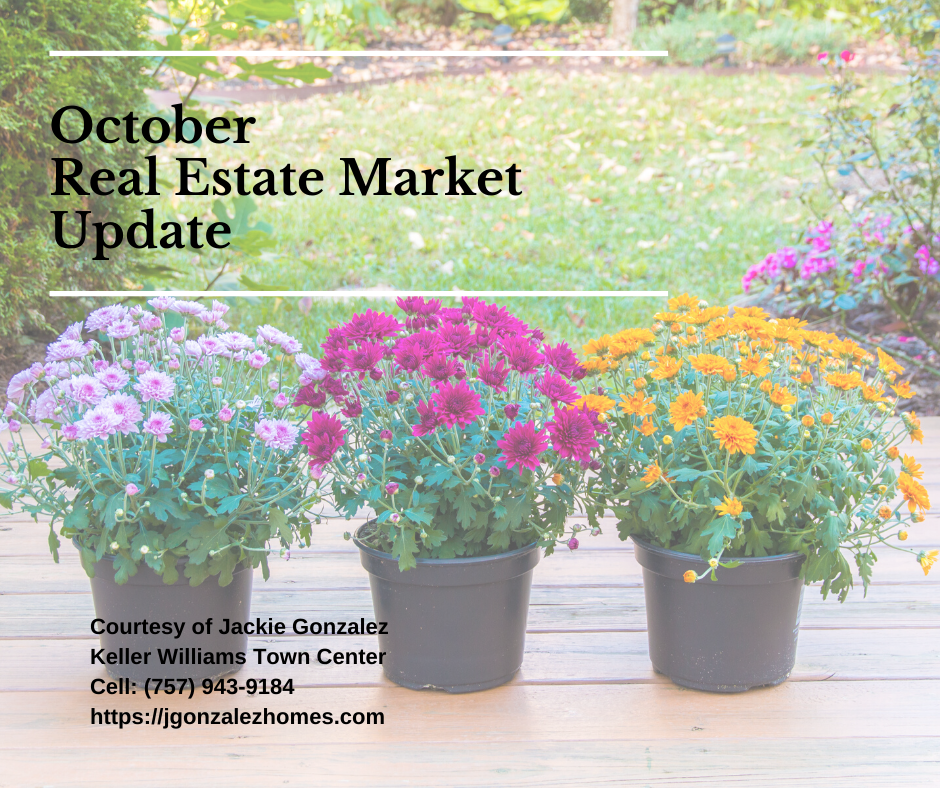 Here is the Real Estate Market Update covering September 2020 statistics for Virginia Beach and the surrounding areas of Hampton Roads.
Homes are selling quickly, and often for above list price due to multiple offers. However, active listings continue to drop at a significant rate. The area's months' supply of inventory also dipped and is currently at 1.82. Inventory may be low, but sales remain strong. It's anticipated that this trend is expected to continue through the end of the year. There's never been a better time to sell if you've been on the fence about doing it!
Buyers are applying for mortgage pre-approval due to unprecedented low interest rates. This is awesome news for homeowners. Therefore, homebuyers trying to take advantage of these rates will find that they need to come to the market with realistic expectations regarding prices, as available housing inventory is at its lowest point ever.
More information can be obtained from The Real Estate Information Network. Read more here….
Cities

Median Residential
Sales Price

Norfolk
Virginia Beach
Portsmouth
Chesapeake
Suffolk
Hampton
Newport News

$237,750
$318,000
$216,900
$303,025
$299,950
$200,500
$219,700
THE DIFFERENCE BETWEEN HOME WARRANTY & HOME INSURANCE
When buying a new home, it's important to do research on all aspects of the homebuying process. One thing you'll need to understand is how to best protect yourself and your property if anything were to go wrong. Knowing the difference between home insurance versus home warranty will help you understand your options.
Home Insurance
Homeowners insurance pays for any accidental damages and loss that are caused by fire, lightning strikes, windstorms, and hail. However, damage from floods and earthquakes is typically not covered. Personal property replacement is also covered in case of theft or damage. Liability coverage is included if a person were to get injured in your home or on your property. According to American Home Shield, the average annual cost of a homeowner's insurance policy ranges between $300 and $1,000, and the bank usually asks you to obtain a home insurance policy before the mortgage is issued. Make sure to keep in mind that each type of coverage in the policy is subject to a limit and, in most cases, you will have to pay a deductible.
Home Warranty
A home warranty covers the cost of repairs and replacements of larger appliances and important systems in your home that may fail or break due to age and wear and tear. This includes but isn't limited to HVAC, electrical, or plumbing components. Kitchen appliances,  washer and dryer, and roof leaks may also be covered. With a home warranty, even if you do not use it, you have to pay monthly premiums. A home warranty won't cover damages if appliances were not maintained properly or if the damage is from a fire or other disaster.
Wondering how much Your Home Value is? Use our House Value Estimator!
ARE YOUR THINKING ABOUT BUYING OR SELLING IN hampton roads, VIRGINIA?
I'm here to help guide you through your home buying or selling experience.
LOOKING FOR MORE INFORMATION ABOUT hampton roads, VIRGINIA?
You'll receive the benefits of learning about great neighborhoods, trends and hot spots.
I hope that you enjoyed this Real Estate Market Update post!
Find More Valuable Information and Read My Blog!