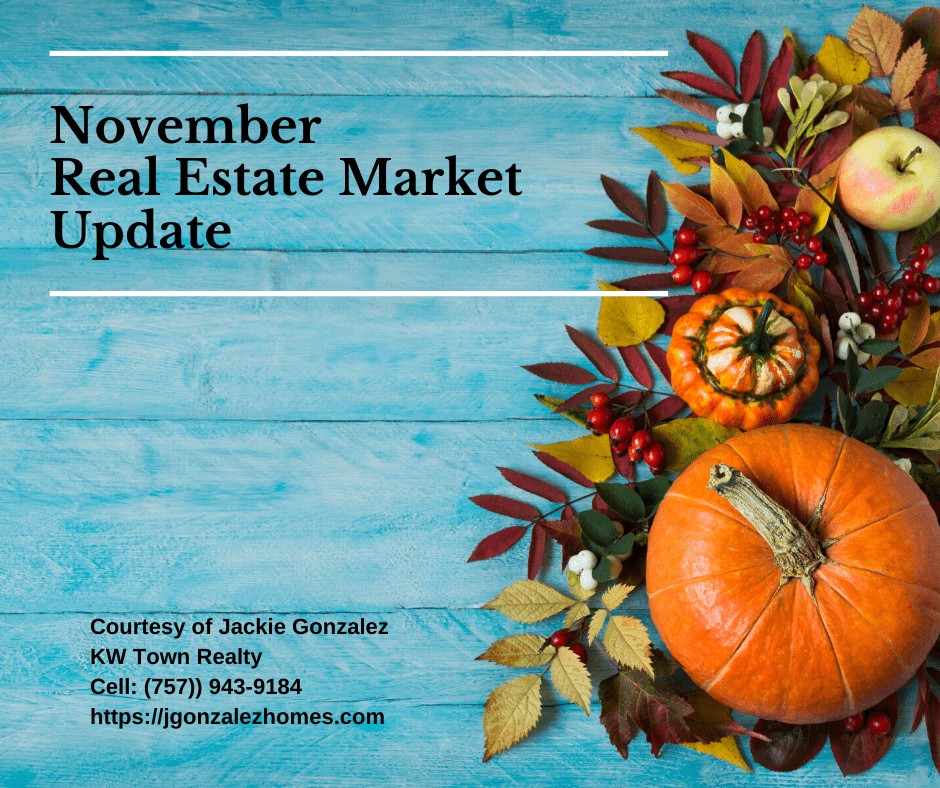 November 2019 Real Estate Market Outlook
Here is the November 2019 Market Outlook for Virginia Beach and the surrounding areas of Hampton Roads. More information can be obtained from The Real Estate Information Network. Read more here.... 
Cities

Median Sales Price

Norfolk
Virginia Beach
Portsmouth
Chesapeake
Suffolk
Hampton
Newport News

$210,000
$257,500
$169,450
$290,000
$275,000
$180,000
$200,000 
SMART SELLING WHEN THE MARKET SHIFTS 
Although the market has shifted, buyers are still out there! Don't allow market trends to stop you from selling. In order to set yourself apart from your competition so you can sell your home in these changing times here are a few tips: 
Don't overprice, but set your price competitively. The lender, buyer, as well as

neighborhood market trends set the price, so be flexible.
If your home needs some updating and you don't want to take on that challenge

consider offering incentives. Offer allowances for outdated appliances, carpet, etc. The buyer can get this done after closing, so making allowances sets the stage for buyers to see the potential of making your home theirs.
Not e

v

eryone loves pets. Get rid of pet odors and pet hair wherever possible

.

Have

carpets professionally cleaned to remove pet smells.
Buyers need to envision their belongings in the home, so create a neutral landscape

inside and outside. You can

s

tart packing ahead of time to remove clutter from your home. Paint the walls, choosing neutral tones throughout

.

Pack away pictures and

collectibles, as you want a clean palate on the walls for buyers.
L

i

ght and airy makes a home welcoming. Opened blinds and curtains add light and

make your home more pleasant and invitin

g. 
If possible, get a professional home inspection before the sale. If repairs are needed you

can make them ahead of time. In addition, it shows the buyers you care.
These are just a few general suggestions for selling your home in a changing market. For a complete understanding of current market trends, average time on market and comparable home prices, call me.
WONDERING HOW MUCH YOUR HOME'S VALUE IS? FIND OUT NOW!
ARE YOUR THINKING ABOUT BUYING OR SELLING?
I'm here to help guide you through your experience of buying or selling a home in Virginia Beach and areas of Hampton Roads.
Searching for Homes?
The Keller Williams Realty Real Estate Search is available on Android, iPhone, and iPad and gives you access to more than 4 million homes.
Start your home search now!
LOOKING FOR MORE INFORMATION?
You'll receive the benefits of learning about great neighborhoods, trends and hot spots throughout Hampton Roads.
I hope that you enjoyed this post!