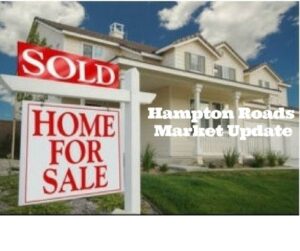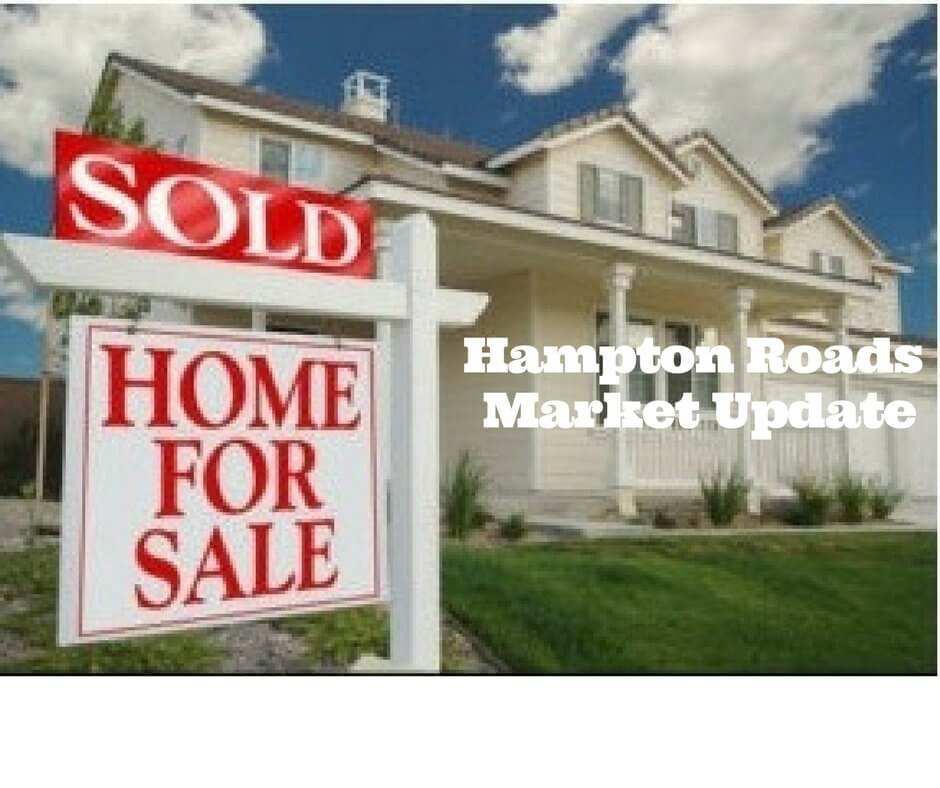 Welcome to this month's market update for Chesapeake, Virginia Beach, Norfolk, and the surrounding areas of Hampton Roads. My goal is to provide useful information whether you're thinking of buying a home, interested in selling your home, or just want to stay current with the real estate market in Hampton Roads.
In August, pending and sold homes are a continuing trend in Hampton Roads, making it a great time for sellers. The reason for this seems to be that listings are on the market for fewer days and available homes for sale are few. The old adage of supply vs. demand has been working on seller's behalf this year.
There was almost 5 months' worth of inventory. Norfolk, Virginia Beach, Newport News and Chesapeake have inventories of below 5 months. Portsmouth has the highest months' supply of inventory at almost 6 months. Only Chesapeake and Virginia Beach saw a slight increase in properties available for sale, while Norfolk and Newport News had the most decreases in available properties for sale at almost 11% and 13%, respectively.
Pending sales for August increased from last year, with many homes going under contract during the month. The average days on the market for a listing were 61 days, as the time on the market continued to decrease over the last 6 months. This is great news for home sellers.
The region's residential median sales price dropped a little from last month, and the median sales price is $233,000. Of the seven major cities, Chesapeake had the highest median sales price of $284,950 in August, and the lowest median sales price was Portsmouth at $155,000.
Distressed homes (short sales or foreclosures) were 11.47% and 10.08%, respectively. The numbers continue to decrease from the same time last year, although the numbers did rise slightly month over month. More information can be obtained from The Real Estate Information Network.
Cities

Median Residential
Sales Price


Norfolk




Virginia Beach




Portsmouth




Chesapeake




Suffolk


Hampton
Newport News

$188,000




$255,000




$155,000




$284,950




$259,950


$160,000
$172,000

By the way, prices in the neighborhood have gone up and there is a shortage of homes available for sale. It's good to keep up with the market whether you're ready to move next month or next year. If you're thinking of selling, now may be the right time. If you're curious about how much you could get for your home CLICK HERE to receive your free personalized market update.
Home Seller Advice
Get Buyers Attention to Sell Your House Fast
When you sell your home you'd like to get a decent price for your house and sell it in the fastest time possible. The last thing a seller needs is for their house to sit on the market for months with few or no offers. There are some things you can do to make your house the one that buyer's want to see first. Here are some ways to get the most buyers paying attention to your home without breaking the bank.
Get organized: In general, organized homes get offers faster than homes that aren't. Virtual staging is becoming popular.  What is that? A photographer takes photos of rooms and then uses software to add attractive furniture. It may appeal to buyers online, but it may not be worth it if the buyer visits the property and it looks nothing like what they saw online. Why not get organized by taking down pictures, especially personal ones, and start packing away unnecessary items that may give your home a cluttered look. Having a clean environment is a lot more genuine than having pictures that don't give an actual representation of your home.
Curb appeal matters: How your home looks from the outside can boost your property's sales value. It will pay off in the long run. Keeping the grass cut, mulching or adding a few flowers will help spruce up its exterior value. Don't forget to clear cobwebs and clean the doors, especially the door knobs or handles. Most people don't pay attention to these details, but buyers will.
Social Media Rocks!: Most buyers search online for their new home. Your agent should be promoting your listing on Facebook, Twitter, Google and other social media sites. Sending Just Sold postcards to people in your neighborhood is old school. It doesn't offer nearly the amount of people who will be able to view and share your listing as does promoting your property online. A tech-savvy agent can also add video tours and professional photos with a Call to Action message to give buyers information they want now right at their fingertips.
Get Rid of Energy Drainers:Â Brighten up the space with LED light bulbs, which are getting better all the time. Heavy drapes darken a room, so try lighter ones or use blinds to add natural light. Also, sometimes buyers ask how much the seller pays per month on utilities. Adding a new programmable thermostat, installation and other energy saver devices keeps the home energy efficient, helps save on energy bills, and keeps the house from being drafty.
In the meantime, your agent should be spreading the word about your home by letting other agents and clients know. This kind of marketing may get you an offer before it officially becomes available for sale on the Multiple Listing Service (MLS)!
Let's make time to talk about getting that SOLD sign on your yard fast. Give me a call now.
By the way, if you're ready to downsize, relocate or just are ready for a change and want to sell, give me a call today.
Seller Road Map
Learn more about the home selling process by getting this downloaded for FREE!
Property updates:
4004 Richard Lee Ct – sold!
This 3 bdr 2.5 bath had multiple offers and was under contract quickly. Although it was sold as-is, there were no major repairs and the seller was able to move quickly.
If you're a seller and want to know more about how to sell your home quickly give me a call.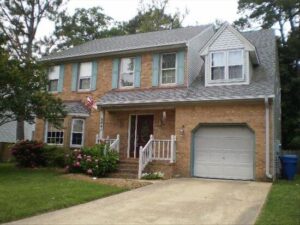 Living in Cypress Point
Coming soon: A spacious 4 bedroom 2-1/2 bath property in Cypress Point off Haygood Rd in Virginia Beach with patio views of  Lake James from the backyard.  This home is in a golf community and has a restaurant, pool, and – of course – golfing!  Even though it has these features and more, there's no condo fees!
This home will sell fast! If you or someone you know wants to learn more about this home before it comes on the market, give me a call at 757-943-9184 or email me at jgemailme@gmail.com.
Home Buyer Advice
The Role of the Real Estate Agent
It's exciting to search for homes, go to Open Houses and tour neighborhoods searching for the perfect home. When you've found it you'll want an agent to guide you and help avoid troubles along the way, unexpected turns and detours. There is so much information out there for home buyers. You may wonder what does a real estate do that will help me towards owning my own home. Let's consider what an agent will do for you:
Before you start touring homes your agent will set aside some time to find out about your needs and wants, the amount you anticipate spending to purchase your home and what moves you to purchase now.
A good agent will explain in a way that's understandable the home buying process and act as your guide along the way. When you see a home you're interested in, your agent should give information on homes that have sold in that area to enable you to know if it's a good opportunity for you.
Your agent will know different specialists you'll need during the home buying process such as loan specialists, home inspectors and licensed contractors.
Having an expert who is looking out for your best interests and who is obligated contractually to work on your behalf to protect you is what you should expect. Buyers should work with an agent whose concern is theirs only and not that of the seller.
During the inspection process even the most sensible consumers can end up noticeably troubled when negotiating repair requests. Your agent will deal with these aspects of the negotiation process.
A good real estate agent understands the timelines and can help you stay on track towards a successful sale – on time and with the least hassles.
Things can happen along the way that can derail the process. The title of the house may not be clear, the bank hasn't processed the closing documents on time, or the seller may not have done their part in order to close on time. A skilled real estate agent knows to look for snags on the road to home ownership along the way and be able to manage those challenges if they arise.
The role of the agent is changing. Due to the Internet, buyers can search for homes without an agent. Most buyers have been searching for homes, maybe even for months, before they contact an agent. Some buyers have found their own homes without one. Therefore, when you're ready to buy it's essential to find a real estate agent you trust and whom you feel great working with. You're certain to profit by their experience, knowledge of the market and negotiation abilities. I welcome an opportunity to discuss this further if you're ready to buy a home. Give me call.
This Buyer House Hunting Checklist will help you figure out your home buying needs and wants. Get yours now!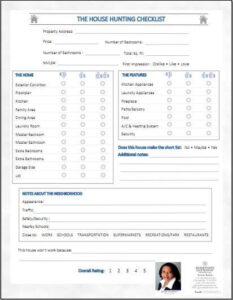 Get Your House Hunting Checklist
Just enter your email address to receive your FREE House Hunting Checklist.
Find your dream home!
[idx-omnibar styles="1″ extra="0″ min_price="0″ ]