Welcome to this month's market update for Chesapeake, Virginia Beach, Norfolk, and the surrounding areas of Hampton Roads. My goal is to provide useful information whether you're thinking of buying a home, interested in selling your home, or just want to stay current with the real estate market in Hampton Roads.
In September, Hampton Roads has continued to have a decrease in available housing. Sales have been consistently steady and our housing market is strong, although other housing markets throughout the nation may have slowed down a bit.
The average time market time for sold homes was 67 days. Virginia Beach and Chesapeake showed modest increases, while Newport News and Norfolk had the most notable loss of homes for sale. The median sales prices have increased slightly except for Chesapeake, which has gone down to some degree.
Short sales, foreclosures, and other distressed homes keep on decreasing, reporting for only 10% of all home sales. As more homes that are move-in ready become accessible, they're selling faster. This leaves opportunities for investors or DIY home buyers to take advantage of homes that need repairs or remodeling, which is usually the case for homes like these.
More information can be obtained from The Real Estate Information Network. Read more here. . . 
Cities

Median Residential
Sales Price


Norfolk




Virginia Beach




Portsmouth




Chesapeake




Suffolk


Hampton
Newport News

$189,450




$249,000




$147,100




$265,000




$260,000


$173,156
$180,000

By the way, prices in the neighborhood have gone up and there is a shortage of homes available for sale. It's good to keep up with the market whether you're ready to move next month or next year. If you're thinking of selling, now may be the right time. If you're curious about how much you could get for your home CLICK HERE .
SELLERS' ADVICE
What Attracts Home Buyers?
Although there is a shortage of homes for sale, buyers want homes that meet 3 categories: condition, price and location. Do you want to sell in the fastest time and for the best price in your area? Check out these ideas and see if your house fits the bill.
Move-in ready homes sell: Today's buyers, especially young buyers with children, can't afford to any buyers are stretching their financial limits to afford your home but you don't want your house to be eliminated because you failed to paint, mow, replace the carpet, fix leaky faucets, etc. Your goal is to make buyers feel like they don't have to do anything but move in.
Make them a price they can't refuse. Pricing your home near or a little lower than market value gives home buyers a chance to compete for your home. It'll get qualified buyers talking. Who knows? You might just be able to sell it above your asking price.
Location counts! Let buyers know about what's in the area. If you're close to shopping, restaurants, entertainment and other amenities, let it be known. Creating an inviting entrance gives the buyers good first impressions of your home. Spruce it up with colorful landscaping, and play down less attractive areas with shrubbery or fences.
Today's buyers have lots of information at their disposal, so what may have worked in the past doesn't work in today's market. You definitely don't want to overprice the home if any of these 3 points mentioned above don't line up. If the price, location or condition don't justify the price they'll check out the location and condition more closely, or they'll find another house that meets their needs and budget.
If you need a little help determining the way to best highlight the condition, price and location of your house, allow me to help you. Give me a call at 757-943-9184 today.
By the way, if you're ready to downsize, relocate or just are ready for a change and want to sell, give me a call today.
Get your Seller Road Map now.
Seller Road Map
Learn more about the home selling process by getting this downloaded for FREE!
Property updates: I had the pleasure of representing clients in the sale of these properties.
| | | |
| --- | --- | --- |
| 6227 Wailes Ave, Norfolk | 1405 Pebblebrook Way | 1241 Virgilina Ave, Norfolk |
 1405 Pebblebrook Way, Virginia Beach
This 3 bedroom 2.5 bath home in The Commons was a short sale. It was on the market for a while, as it took some time to get the lender to come around. Once they were on board things were a lot easier regarding the sale. There were some repairs that needed to be done prior to the buyer moving in, which were taken care of. The seller couldn't be happier now, and she can move forward with her life.  Check out the seller's review on Zillow. If you know someone who is having trouble paying their mortgage and may need my help please contact me. I am SFR certified (Short Sales & Foreclosure). I have information to help you to avoid foreclosure, possibly not even selling your home. Get your free Foreclosure Alternatives. 
GET THE EDGE!
Do you know of someone who is behind on their mortgage? Do you have to sell their home but can't? Are you feeling overwhelmed? Get answers and options to help you understand your rights and avoid foreclosure. Get help now when you need it. Don't let time run out!
For Buyers: If you're interested in buying and need financing check out the FHA 203k loan product. These are renovation loans where upgrades where the repairs to the property can be factored into the loan, as in most cases the seller doesn't have the funds and the homes may need updating. This will help the purchase of these types of homes go through smoother. Contact your mortgage lender for more information regarding this or give me a call to be referred to an awesome loan officer.
BUYERS' ADVICE
Making a Purchase Offer In A Fast Market
Homes have been selling quickly, and multiple offers have been common in some areas. You've found your "forever" home, one you plan on making memories for years to come. With buyers competing for homes, how do you make your offer one that the seller accepts?
You'll need an agent to create a competitive market analysis (CMA) to show you what homes have sold for in the area of the home you want to buy. Some of the information they'll use to make this analysis is to find houses that are similar in size, features and benefits. If the price is reasonable and you want to be a contender then offering asking price or a price close to it is *reasonable. Don't forget to include the earnest money deposit with the purchase offer. It let's sellers know you're serious in purchasing their home.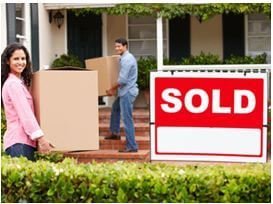 You'll need to attach a copy of your mortgage pre-approval letter along with a letter of introduction that appeals to the seller and let's him know why you're the right buyer for this home. If there's a difference in price, attaching a copy of the CMA let's the seller know how you determined your offer price. The seller wants to move also, so having as few contingencies as possible makes the purchase offer more attractive.
I'll help you write up a strong purchase offer based on price, settlement date, terms and conditions, as well as discuss how much of an earnest money deposit you'll need. Once the terms have been agreed to and if the seller selects you as the new homeowners, soon you'll be in your new house! Let me guide you the way home. Call me at 757-943-9184 today.
The role of the agent is changing. Due to the Internet, buyers can search for homes without an agent. Most buyers have been searching for homes, maybe even for months, before they contact an agent. Some buyers have found their own homes without one. Therefore, when you're ready to buy it's essential to find a real estate agent you trust and whom you feel great working with. You're certain to profit by their experience, knowledge of the market and negotiation abilities. I welcome an opportunity to discuss this further if you're ready to buy a home. Give me call.
This Buyer House Hunting Checklist will help you figure out your home buying needs and wants. Get yours now!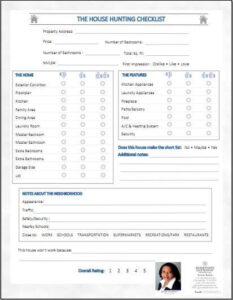 Get Your House Hunting Checklist
Just enter your email address to receive your FREE House Hunting Checklist.
Find your dream home!
[idx-omnibar styles="1″ extra="0″ min_price="0″ ]