This month's market update for Chesapeake, Virginia Beach, Norfolk, and the surrounding areas of Hampton Roads shows that the real estate market is alive.  All seven of the region's major cities have shown reductions in their inventory of properties for sale, with Norfolk and Newport News having the most reductions.
In July there was about 5 months worth of inventory. Virginia Beach, Chesapeake and Newport News have inventory supplies below 5 months, and Portsmouth has the highest months' supply of inventory a little over 6 months.
Pending residential sales for July are up with many homes going under contract during the month. The average days on the market for a listing were 62 days, which hasn't been this low for July since 2006 when it was 47 days. That's good news for home sellers.
The region's residential median sales price rose 1.95% from $235,000 in July 2016 to $239,579 in July 2017. Of the major cities, July's highest median sales price was $279,950 in Chesapeake, while the lowest was $155,500 in Hampton.
Distressed homes, those that are either short sales or foreclosure, continued to decrease as a percentage of the market year-over-year, though the numbers did rise marginally month-over-month.
Hampton Roads median sales price rose from $235,000 in July 2016 to $239,579 in July 2017. July's highest median sales price was $279,950 in Chesapeake, while the lowest was $155,500 in Hampton.
Those that are either short sales or foreclosures continued to decrease, though the numbers did rise slightly month over month. Information was obtained from The Real Estate Information Network.
Cities

Median Residential  Sales Price


Norfolk




Virginia Beach




Portsmouth




Chesapeake




Suffolk


Hampton
Newport News

$207,500Â




$269,490




$157,250




$279,950




$246,750


$155,500
$176,500

For Sale
| | | |
| --- | --- | --- |
| 4004 Richard Lee Ct, Virginia Beach, VA 23452 | 6227 Wailes Ave, Norfolk, VA 23502 | 1405 Pebblebrook Way, Virginia Beach 23464 |
 By the way, prices in the neighborhood have gone up and there are a shortage of homes available for sale. It's good to keep up with the market whether you're ready to move next month or next year. If you're thinking of selling, now may be the right time. If you're curious about how much you could get for your home CLICK HERE  to receive your free personalized market update.
It's that time of year again!
For those who have children going to school, this list of school district calendars may prove helpful.

Hampton Roads School District 2017-2018 Calendars
VB Public Schools Calendar
Norfolk Public Schools Calendar
Chesapeake Public Schools Calendar
Suffolk Public Schools Calendar
Portsmouth Public Schools
Hampton Public Schools Calendar
Newport News School Calendar
Home Buyer Advice
Comparative Market Analysis (CMAs)
Whether you're a buyer or seller, your agent will prepare a comparative market analysis (CMA) based on similar homes within a given search area, using size, age, features, condition and location, whether the homes have sold recently and which are currently on the market.
Buyers use CMAs to help them make offers while sellers use CMAs to help them price their homes for sale or to adjust the price. As soon as a home sells or a new home comes on the market, the previous CMA is no longer relevant and a new CMA needs to be generated.
Prices may vary widely – even between identical homes. One property may offer better curb appeal or more extensive updates. CMAs differ widely by features and benefits like number of bedrooms, views, swimming pools, or a broader search area.
There's no knowing why a seller undersells or a buyer overpays. Family pressures, relocating, and other reasons won't be in the comparative market analysis. Instead, consider how quickly homes are selling, whether they sold for list price or above, or whether homes are experiencing price reductions. Your agent will explain how home sales are trending and what strategies may work best for you.
In the meantime, let's figure out what features and benefits you want most by filling out the form below to get instant access to your Buyer House Hunting Checklist.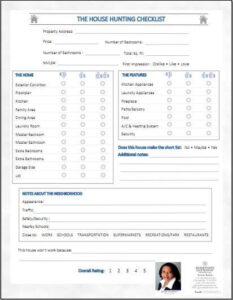 Get Your House Hunting Checklist
Just enter your email address to receive your FREE House Hunting Checklist.
Home Seller Advice
Prepare Your Home for Sale
Making your house shine like the jewel of the neighborhood will draw today's buyers who want move-in-ready homes that they don't have to do much work with. It gets buyer eyes on your property, draws the most buyers, and gets an offer quicker.
If the focus is more on the price than how well it shows, you'll end up with showings and no buyers. You also may end up with a lower sales price. Let's think of options you have to stage your home in its best light before the first buyers walk through your door. Here are 5 tips to help you prepare your home for sale.
By the way, if you're ready to downsize, relocate or just are ready for a change and want to sell, give me a call Broken Links 1today.
Get your Seller Road Map now.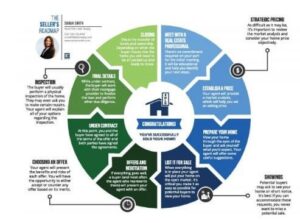 Seller Road Map
Learn more about the home selling process by getting this downloaded for FREE!
Find your dream home!
[idx-omnibar styles="1″ extra="0″ min_price="0″ ]