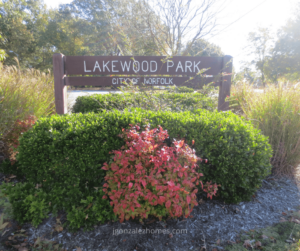 The Lafayette area of Norfolk has a friendly neighborhood atmosphere.  Close to shopping, restaurants, and entertainment, there is so much to see and do! In Lafayette, most residents are homeowners. It is near shopping, schools and cultural attractions. There are beautiful single family homes, condominiums  and apartments to choose from.  This makes the Lafayette is a great place to work, play, and live.
what's nearby
Old Dominion University, also known as ODU, a public research university, not only is a well known place for faculty and students to work, study and live - it hosts sports, music, art and cultural activities.
Nearby Downtown Norfolk has a fantastic Waterside District where you can enjoy delicious dining and entertainment. In addition, the area is well known as a financial center.
Close by is historic Ghent, a lively community filled interesting shops, unique places to dine, antique stores and art galleries.
There are a lot of parks to visit as well as the Layfayette Library and Slover Library. Nearby attractions include the Chrysler Museum of Art, the Virginia Opera Company and the Harrison Opera House. There are the historic Naro Expanded Cinema and Attucks Theatre. In addition to Downtown Norfolk and the Waterside District, there is  the McAurthur Mall, Town Point Center, and Nauticus.
Employment
The Lafayette area of Norfolk is in close proximity to the Naval Station Norfolk, Joint Forces Staff College, Joint Expeditionary Base–Little Creek, and Naval Medical Center Portsmouth. Also, there is Norfolk's largest medical facility Sentara Norfolk General Hospital, Sentara Heart Hospital, Children's Hospital of the King's Daughters, and Eastern Virginia Medical School.
Getting Around in Norfolk
Most people drive using Interstate 264, and there is plenty of on- and on-street parking.  Public transportation such as the Hampton Roads Transit System (HRT) or The Tide, Norfolk's light rail system, are easy ways to get around. Some people enjoy biking or riding electric scooters to get around. There are also plenty of sidewalks for short sprints around town. Also, you can take a taxi to drive you to nearby locations and attractions.
Norfolk Schools
The Norfolk School Locator can help you find your assigned elementary, middle, or high school if you're'new to the area or if you've moved from one neighborhood to another in Norfolk, Virginia. Be sure to check with the Norfolk School system to verify the address is in the school zone where you're interested in living. Another resource many parents use is GreatSchools.org.