Getting a loan after a foreclosure, short sale or bankruptcy is the goal many people have.
These types of future homeowners are called "
boomerang buyers." 
If you went through such a painful experience, you weren't alone. Millions had lost their homes during the recession. Now that the economy has improved and interest rates are still low, your ability to buy a home has never been better.
Have you heard of the term "boomerang buyer" before? These individuals have gone through a foreclosure, short sale or bankruptcy . They realize that now is the time to buy a home and have met the waiting requirements for getting a mortgage.  Check out the chart for an overview of the required waiting periods before applying for a loan.
Important: The clock starts with the discharge date, not with the initial filing date.
FORECLOSURE

SHORT SALE

CHAPTER 7 BANKRUPTCY

CHAPTER 13 BANKRUPTCY

3 years - FHA

2 years - VA

4 years - conventional

3 years - FHA

2 years - VA

4 years - conventional

2 years - FHA

2 years -  VA

4 years - conventional

You've paid 12 months of plan payments.The court approves your request to purchase a house with an FHA loan.
The borrower has to establish a history of good credit, a satisfactory employment history and meet other financial qualifications. This information is provided for educational purposes. Contact the appropriate professional(s) if you need in-depth information pertaining to your situation.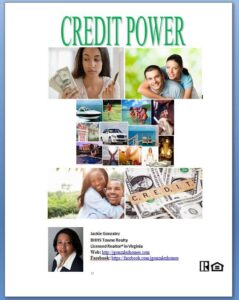 CREDIT POWER!
Whether buying or selling a home, having credit power is an important aspect of real estate. Get access to this E-Book!
ARE YOU LOOKING TO BUY YOUR DREAM HOME IN coastal hampton roads, VIRGINIA?
If you are a home buyer, my foremost goal is to provide you with exceptional customer service. Our goals are to help you purchase the right home, make sure you don't miss out on any homes that meet your needs, and make sure you don't pay too much for your next home.
Please utilize my real estate expertise to make your home search and buying experience as stress free and rewarding as possible.
Search Available Hampton Roads Properties
ARE YOUR THINKING ABOUT BUYING OR SELLING IN Coastal VIRGINIA?
I am a local expert and am here to help guide you through your home buying or selling experience.
LOOKING FOR MORE INFORMATION ABOUT coastal virginia?
You'll receive the benefits of learning about great neighborhoods, trends and hot spots.
RELOCATION INFORMATION
Are you thinking about relocating to Hampton Roads, Virginia? I can help you find the perfect home and make your move as stress-free as possible. I can offer valuable insight about the area to help you through your home buying experience. Contact me at (757) 943-9184.
You May Also Like: Free or Low Down Payment Assistance Programs
I hope that you enjoyed this When Can I Get a Loan after a Foreclosure, Short Sale or Bankruptcy post!