There are many reasons a homeowner may want to sell their house For Sale by Owner. The seller might be concerned as far as how much money they're going to get out of the transaction because funds are tight, especially if they have to make repairs to the property. Another reason is that they may feel that they can do it themselves and they don't need an agent or perceive the value that a real estate agent provides.
What are the Pros And Cons
Knowing the best ways to sell your house For Sale By Owner will save you time and money. Before you decide to sell your home unrepresented by a real estate agent, you need to ask yourself a few questions:
Do you have the time to invest in selling the home? Agents and buyers will be calling you quite frequently for questions and showings.
Do you have time to show the property? Do you know how to stage the home to impress buyers so that when they see it they'll fall in love with your house? Staging also includes adding curb appeal. That's very important in attracting potential buyers because if the property doesn't look good on the outside it can be a turnoff for buyers.
Do you have it advertised online? That's where most people look for homes. Tip: It just can't be advertised on sites like Zillow. You have to have it on multiple sites.
Do you know how to set the right price? You don't want to leave money on the table or end up giving the house away.
Another thing is showing times. If you're not flexible when it comes to showing the house possibly due to your work schedule or other obligations buyers will lose interest and you'll miss out on showings.
Are the buyers pre-qualified? If not, you may have to help the buyer obtain financing. I'm sure you don't want unqualified buyers touring your home. That's a good thing to know.
Is the buyer working with an agent? Are you willing to compensate pay the agent for bringing you a buyer? Don't forget, the agent will not represent you, but the buyer. You'll be working out all aspects of the transaction as well as negotiating, completing the purchase contract and legal disclosures, scheduling inspections and coordinating the closing, and performing other necessary aspects of the sale. The best ways to sell your house For Sale By Owner require planning ahead.
Oops! We could not locate your form.
Dealing with the legal stuff…..
An important aspect of the sale is the purchase contract, addendums and disclosures required by law. Do you know about disclosures for lead paint disclosure, disclosing to buyers about living near military installations that use aircraft (AICUZ) and other disclosures required by law?
What if you live in a condo or property owners association? There are disclosures related to that as well as disclosures about fees and association documents that must be provided within a certain time frame.
You'd want to be prepared for all these different aspects of the sale so that later on, even after the sale, you don't want to incur a lawsuit from the buyer or others related to the sale just because you did not disclose certain things that you didn't know were required.  What's good about having a real estate agent to represent you on the seller side is that they have errors and omissions insurance, which can provide coverage in the event something goes wrong.
Now you have the information you need to sell their house For Sale by Owner. By the way, research from the National Association of Realtors® (NAR) shows that people who sell on their own usually knows the person with whom they sold the house. Also, statistics show that FSBOs typically sell for less than the selling price of other homes. Data from the NAR as of 2018 FSBO homes sold at a median of $200,000 last year (up from $190,000 the year prior), and significantly lower than the median of agent-assisted homes at $264,900. That's possibly because of the seller not having all the data available when it comes to doing a comparative market analysis or having a market snapshot of their community's value.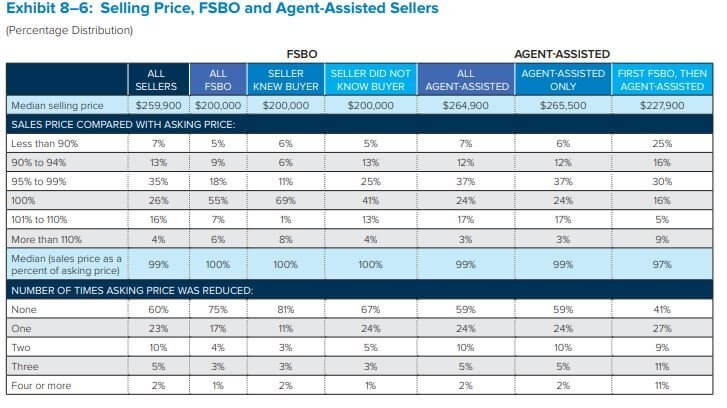 The Bottom Line
If you have any questions or concerns I'm here to help. There's no charge or obligation until you're ready to list your home. Also, I don't get paid unless the house sells, so there are many advantages to consulting me regarding the sale of your house. If the fee for service in representing you is a concern, I understand that you're trying to save money. It's an investment and you want to get the most for it. But….if you want to:
Benefit from their expertise to help you prepare your house to WOW buyers and get the most traffic
Showcase your property to get buyers attention with professional photos
Utilize hundreds of websites to give your house the most online exposure
Have someone arranging showings
Have the most qualified buyers come through your door
A skilled negotiator who is working for you, not the buyer
Getting your house under contract to sell on time with the least hassles and for the most money the market allows
Making sure legal risks are covered during and after the sale
Facilitating the paperwork and coordinating the closing process so the only thing you have to focus on is moving….
If after giving it a try you decide you want an agent who knows the market, who has access to qualified buyers and their agents, and who provides quality service you deserve,  contact me to discuss your goals and how to achieve them. I will make sure you have all the facts.
So, with that being said, Happy Home Selling!
ARE YOUR THINKING ABOUT BUYING OR SELLING IN hampton roads, VIRGINIA?
I'm here to help guide you through your home buying or selling experience.
LOOKING FOR MORE INFORMATION ABOUT hampton roads, VIRGINIA?
You'll receive the benefits of learning about great neighborhoods, trends and hot spots.
I hope that you enjoyed reading this Best Ways To Sell Your House For Sale By Owner post!