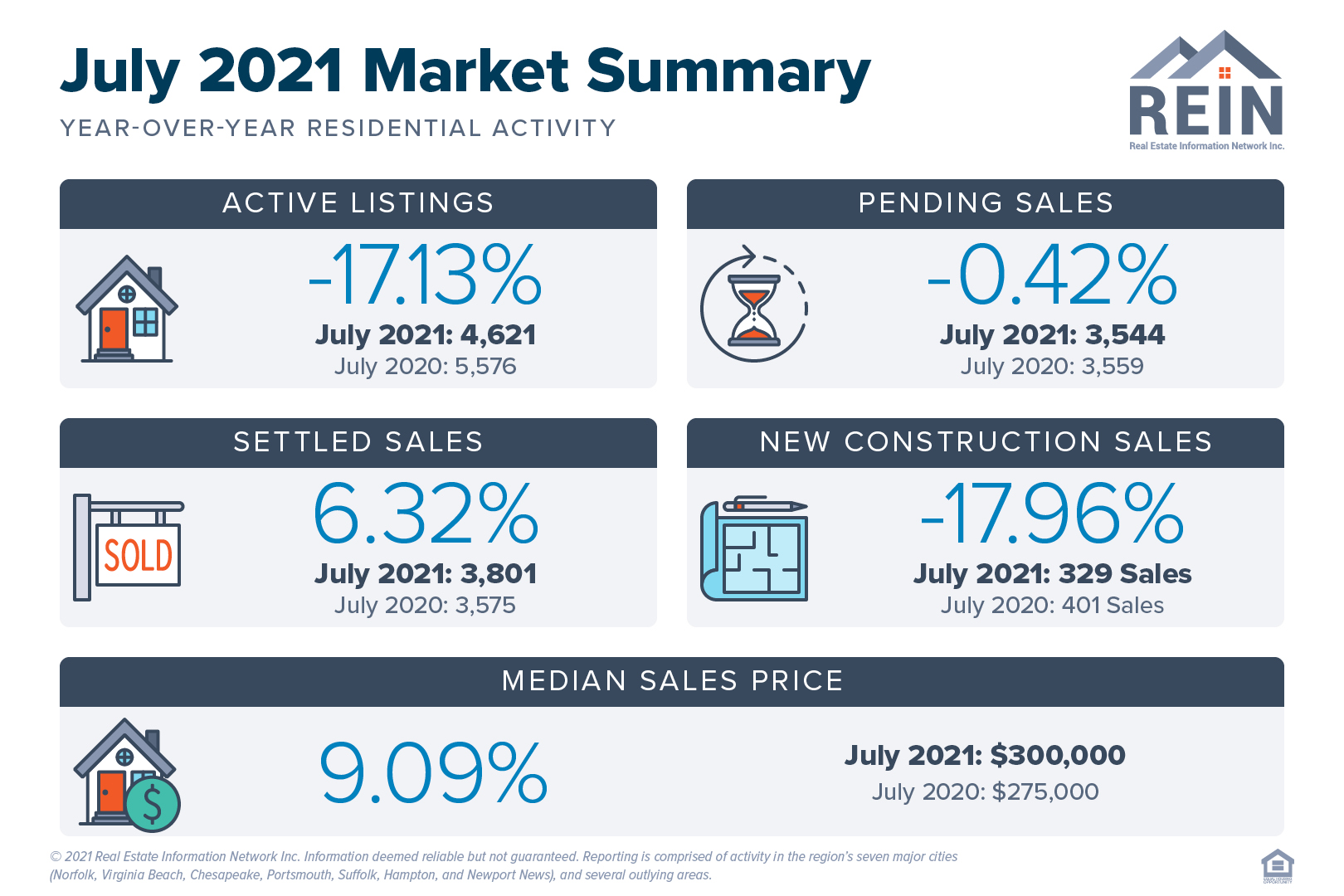 Here is the August 2021 Real Estate Market Update for Hampton Roads showing July's inventory and rates regarding real estate for the region's seven cities of Virginia Beach, Chesapeake, Norfolk, Portsmouth, Suffolk, Hampton and Newport News.  More information about market trends and months' supply of inventory can be obtained from The Real Estate Information Network. Read more here.... 
Homebuyers are still out there hoping to find a home that meets both their needs and budgets. Mortgage rates are still at a record low, so buyers are looking.
According to REIN, our local MLS, there's been a decrease of properties on the market in July, with 4,621 active listings on the market, a decrease of 17.13% compared to this time last year.
REIN reports that the median sales price for residential sold homes in July 2021 was $300,000, and sales prices have increased for the second month in a row. In May 2021 it was $290,000 and in June it was $298,470.
Although sales prices are still high, we're in that supply and demand phase where there's not a lot of homes on the market, keeping us in a seller's market due to more demand.
This trend in decreased inventory available to home buyers in Hampton Roads has been ongoing since the beginning of 2021, with inventory hovering below 4,000 active listings per month since the beginning of the year. In January 2021, there was a 44.89% decrease in residential listings year-over-year with 3,664 active listings on the market as compared to 6,648 listings in January 2020.
August is usually a slower month since kids are getting ready to go back to school. However, demand is still high, so it's still an awesome time to sell a home.
COMMON BANK REQUIRED REPAIRS
If a home buyer is getting bank financing, the bank will do an appraisal. The appraiser is looking for potential safety concerns.
If that happens, the bank will hold off approval of the loan pending required repairs being done in order to fund the loan.
This means that the lender does not fund the buyers' loan, and the seller does not go through unless the repairs are made.
Some common bank required repairs include missing handrails, broken windows, peeling paint, missing electrical covers, and roofs that are in very poor condition.
Sometimes the sales contract designates who will pay for certain kinds of repairs. When its terms don't settle the issue negotiations occur between the seller and buyer about who will pay for mandatory repairs.
Oftentimes, the seller bears most or all of the cost of repairs to ensure the sale will close.
Contact Me Today!
Thinking of Selling or Buying a Home? I'm here to help!
WONDERING HOW MUCH YOUR HOME'S VALUE IS? FIND OUT NOW!
ARE YOUR THINKING ABOUT BUYING OR SELLING?
I'm here to help guide you through your experience of buying or selling a home in Virginia Beach and areas of Hampton Roads.
Searching for Homes?
The Keller Williams Realty Real Estate Search is available on Android, iPhone, and iPad and gives you access to more than 4 million homes.
Start your home search now!
LOOKING FOR MORE INFORMATION?
You'll receive the benefits of learning about great neighborhoods, trends and hot spots throughout Hampton Roads.
I hope that you enjoyed this August 2021 Real Estate Market Update post!