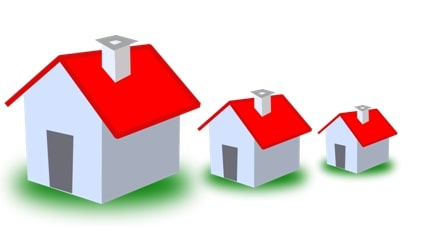 I'm working with a lovely elderly woman who has left her home and moved in with her family. She has adjusted quite well. However, her house shows that she has lived a full life. If you or someone you know has a house that has now become too big for your needs, now may be the time to think about downsizing.
The first thing to do is to talk to your family about your plans and enlist their help. They may not want your furniture or decorations, but having them there in your corner to help make decisions and use their manpower to get things done is invaluable.
Look around the house to see what you want to keep or give to friends and family. Don't forget about your photo albums. You can never get those pictures back so be sure to save them. If the items are good they can be donated to charitable organizations or sold at auctions or estate sales.
Here are 9 do's and don'ts tips to review when deciding to downsize: 
It takes some time to get used to the idea. The key is not waiting too long. Look at it as a new chapter, an adventure in your life.
Your family and friends are your lifeline. Don't shut them out of the process. Openly discuss this with the adult children and grandchildren, who will more than likely help you through this.
Don't worry about leaving some items behind. Focus on special pieces of furniture or decorations that spell home" to you. There probably won't be room in your new home for everything, so don't try to take it all.
Your possessions are priceless to you. To others, probably not. Don't overprice what you're trying to sell or get rid of.
Eat your elephant one bite at a time. It takes time to downsize, so don't overdo it. Relax when tired or give the project to someone who can handle it, especially the stress of moving.
Enjoy a giving spirit. You're a blessing to all who have touched your life. Be generous and share with those who may need it more than you.
When you allow someone to help you you're giving them a gift. Let them receive it by offering to help, especially your children.
Try to stay focused. When you're in your new surroundings there will be so much to look forward to. New friends and experiences await you. Enjoy the ride. 9. Don't let fear of change overwhelm you. This is just another phase in life. This too shall pass
Find Out Your Home's Value?
If you're selling your home you'll need a reliable Realtor® to guide you through the sale of your home. I enjoy in working with people who are relocating to find a home that's more suitable for their needs.
Here are some things I do to make your move successful: 
Help you make moving arrangements, if needed
Market your home with signs, the Internet, and other advertisements make sure your listing reaches the most qualified prospective buyers through the online multiple listing service (MLS)
Price your home to sell based on local market data of similar properties guide you through the paperwork and inform you of what's needed legally as a home seller so you don't have to worry
Frequently communicate your needs and negotiate on your behalf to make sure you get the most out of your home sale.
If you're ready to get the help of a reliable professional agent to sell your home and move, give me a call today.
WONDERING HOW MUCH YOUR HOME'S VALUE IS? FIND OUT NOW!
ARE YOUR THINKING ABOUT BUYING OR SELLING?
I'm here to help guide you through your experience of buying or selling a home in Virginia Beach and areas of Hampton Roads.
Searching for Homes?
The Keller Williams Realty Real Estate Search is available on Android, iPhone, and iPad and gives you access to more than 4 million homes.
Start your home search now!
LOOKING FOR MORE INFORMATION?
You'll receive the benefits of learning about great neighborhoods, trends and hot spots throughout Hampton Roads.
I hope that you enjoyed this post!